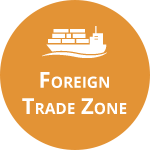 Foreign Trade Zone Benefits
A company who has earned a General Purpose Certificate to operate as a Foreign Trade Zone has completed a rigorous certification program which includes significant systems and tracking infrastructure enhancements. Vision has taken this much further by also developing expertise through the entire logistics chain – all the way back to working directly with your manufactures to ensure your product is tracked and accounted for all the way to our warehouse.
Vision Consumer Products Fulfillment has built unparalleled levels of industry expertise in consumer products fulfillment services through their decades of operations. No matter who your customer is, we treat your customer as our own. We know what makes a raving fan out of an individual customer, as well as what makes a business partner trust you with their business. Call or email us to learn how. We're certain we'll be the best fulfillment warehouse partner you have ever had!
661.702.5050
http://visioncpf.com
cpfsales@visionmediamgmt.com